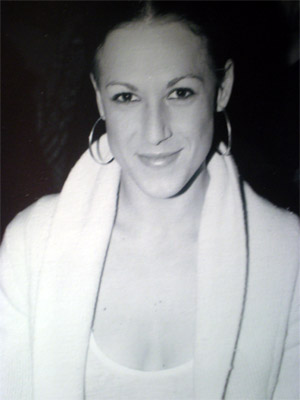 She was born in Athens, Greece. She graduated from the State School of Dance in Greece (2002), Rotterdam Dance Academy in The Netherlands (2005), Fontys Dance Academy, Tilburg, The Netherlands (Ma Choreography directed by Jo Butterworth 2007). She received scholarship from the National Organization of Scholarships of Greece (2004), Jacob's Pillow Contemporary Tradition, Massachusetts , U.S.A (directed by Milton Myers, Alvin Ailey 2002) and Pact Zolverein in Essen, Germany (directed by Robert Stein 2004). She attended the choreography lab directed by Ann Sanchez- Goldberg (Paul Zaccarini, Michael Klien, Roberto Olivan at Kinitiras Residency Center, Athens 2010).
Since 2002 she dances with several dance companies in Greece and abroad. Since 2009 she is a priestess of the Lighting Ceremonies of the Olympic Games:
Vancouver 2010
London 2012
Sochi 2014
1st Winter Youth Olympic Games "Innsbruck 2012"
2nd Summer Youth Olympic Games "Nanjing 2014"

She also participated as a priestess at the Lighting Ceremonies for the European Youth Olympic Festivals at the Panathenaic Stadium and Pnyx, Utrecht 2013, Brasov 2013, Trabzon 2011, Liberec 2011, Tampere 2009.
She dances at the Art dance theatre since 2008:Opening Ceremony of 6th Cultural Festival of Beijing for Cultural Olympiad China 2008. Minotaur at the 11th International Congress on Engineering and Food organized by the National Technical University of Athens in the Roman Forum, at the 2nd Cultural Festival of Spetses at Mpoumpoulina's museum and at the Rematia Festival, Chalandri, Athens( 2011). Cold Water Traces at the 3rd Cultural Festival of Spetses at Mpoumpoulina's museum (2012). Amazones at the 4rth Cultural Festival of Spetses at Mpoumpoulina;s museum (2013).

Since 2007 she teaches dance in dance and theatrical schools. She has choreographed SARGAM (2005), LOST THOUGHT (2006), ALTERNATIVE (2007),TOWARDS(2010), TOWARDS II(2013). She has also choreographed several plays ELECTRA THE RE-WRITE by Edward Pomerantz, Six Hidden Letters by Thomas Diafas, Ekplixi the circus that felt asleep by Antigone Gyra.